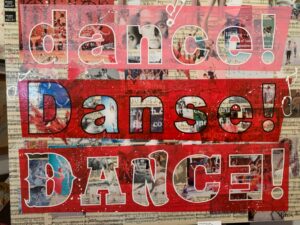 UPDATE: Due to global precautions regarding the COVID-19 outbreak, and as a matter of civic responsibility, Miami City Ballet's 2020 Gala and Crash the Gala events have been postponed.
On March 14, 2020 the Miami City Ballet will put up for auction at its annual gala a one-of-a-kind commissioned art piece: a collaboration between the Friezo Foundation and Peter Tunney to raise money for the MCB School and its quality educational programs.
"It's truly a tribute to the past, present – and future – of Miami City Ballet", said Robert, "with his unmistakable scraffito style, Peter was able to capture the essence of a company on the rise in a 4×5 foot ensemble. First with Firebird, now Don Quixote, and continuing with Swan Lake, this piece is sure to excite ballet lovers and ballet curious alike".
The piece, entitled "Dance! Danse! DANCE!" is 48×60 inches on canvas and on display at Wynwood Walls prior to auction on March 14, 2020 at the Miami Beach Convention Center Sunset Ballroom. Every dollar raised will go towards the school's mission to enrich lives.